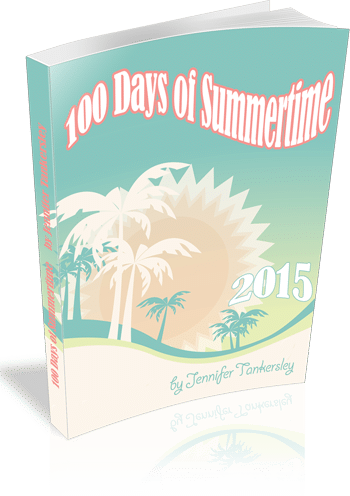 I'm a list maker. I constantly make lists of things to do, things to pack, things to buy, things to remember, etc. I can't remember anything unless I write it on paper or in the notes app on my phone. If you are like me, you will love Jennifer Tankersley and her website, ListPlanIt.
One of her best products is her 100 Days of Summertime eBook.
The 100 Days of Summertime 2015 is available as a PDF that can immediately be downloaded to your computer. You can print out all 37 pages our just the totally awesome worksheets that are included in the eBook. Those worksheet printables are worth the $8 this fabulous eBook costs. The printables can be used over and over again and are critical to planning out a fun, well-organized, and productive summer.
Some of my favorite sections of the 100 Day of Summertime 2015 eBook include:
End of school/Beginning of summer party
Planning for your summer vacation
National Strawberry Shortcake Day
Not every day can be sunny and warm, so a list of rainy day activities
Quench Your Thirst with lots of fun summertime drink recipes
This book fits the needs for families of all sizes and ages. There is truly advice and planning ideas for everyone with ideas that I had never thought about. Some of the planning pages available to print off include:
Cookout Planner
Summer Chore Charts
Monthly Planning Calendars
Travel Itinerary
Budgets sheets
So much more
The 100 Days of Summertime 2015 eBook is designed for daily inspiration and guidance, taking you from Memorial Day to Labor day. Each page lists the date and a motivational task, activity, or event. Most days also include links to a Pinterest board, website, or other resources to help you fulfill the activity.
Whether you have a family reunion, a wedding, a vacation or summer camps to get ready for ListPlanIt can help you organize all of it. Even if you have no summer plans, Jennifer has loads of ideas to help you find the fun in every day this summer. If you didn't know, June 13 is National Strawberry Shortcake Day, so she has a recipe to make sure you celebrate that day in the best way possible.
I am offering a giveaway for two, yes TWO copies of the 100 Days of Summertime 2015 eBook, but you must enter quickly as the giveaway will end Thursday, May 21, 2015 at 11:59 PM. That way the winner will have time to download it and start with Day 1 of the 100 Days of Summertime.
I can't recommend Jennifer's website enough. She has planners and lists for EVERY. SINGLE. NEED. She has done all the work, you just need to print them off and follow the plan! To see all her planners and lists, click HERE.
Thanks to Jennifer for sending a copy of her eBook to me for the purpose of this review as well as offering copies for a giveaway. I was not compensated in any way for this review, but if you choose to purchase through the above links, I may receive a small commission without you having to pay a cent more for your purchase. Thanks for supporting SincerelyStacie.com reviews.