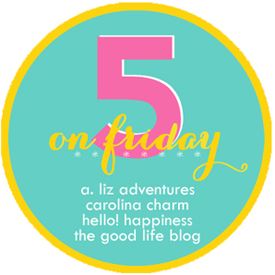 Thanks to Becky at
bybmg.blogspot.com
, I found out about this great linky where bloggers share five happy things from their week. I've been wanting to participate and I hope to continue. Through the summer I plan to share our joys from the lazy, crazy days of summer with our kids each Friday. Stay tuned and join in with other bloggers sharing their High Fives from the week! Click the Linky boxes above to see other great High Fives from all over the world! Seeing other joys will make you joyful as well and help you appreciate the little things that bring a smile to your face throughout your week!
1.
I made these Crazy Brownies from The Pioneer Woman. Her recipes are always, always awesome. I love her show on the Food Network and have followed her blog for a long time. When I saw these brownies, I knew I had to try them. Chocolate cake, Reeses Peanut Butter Cups, Rolos, and M&Ms together in one recipe. Ummmm…..yeah….I'm in! They were a hit with our family and friends and were Crazy Delicious!! For the recipe, click HERE.
2.
I started this Runner's World Inspired Challenge called #RWRunStreak, where for 40 days you run a mile a day. Who can't find time for that? For more on this challenge, click HERE. To stay up to date on how I'm doing on the challenge, follow me on Instagram, HERE.
3.
I worked in a "me" day before school lets out for the summer. I spent an hour and a half reading a book, getting my feet and legs massaged, and getting a fun summer color on my toes. Then I treated myself to lunch at a Thai restaurant. The disappointing part was they didn't serve Mango Sticky Rice which I have been CRAVING! Need to find a place that serves it soon!
4.
I spent yesterday with girlfriends. We decided to travel to Kalona, a town south of here filled with Amish and Mennonite families. We have our favorite grocery store and greenhouses that we like to go to and were so looking forward to our day. Unfortunately, when we arrived at our first stop, we noticed that they were closed due to Ascension Day. Ugh! Note to self: Check religious calendar before traveling to Kalona next time. We drove an hour to find out we wouldn't be able to go to any of our favorite places. But we still had a blast and lots of laughs. We found a new greenhouse in a town about 10 minutes away and still found a few non-Mennonite owned businesses that were open. We tried out the new Kalona Brewery for lunch and loved their Wood Fired Pizzas. I found some great flowers to put outside our home and still made a stop at the Kalona Cheese Factory. We had a great time, so the day was still a win. I didn't get any photos taken as we were kind of rushed since we all had to be back home before school got out. I had to rush to watch Reagan play two piano pieces at the nursing home with her friends and she did an awesome job.
5.
Last night was our first regular baseball game of the season. There are a lot of baseball games in my future this summer with the boys playing on the town team and Patrick playing on the high school team. I love watching the boys and their friends play. They have some serious determination in their faces! Let's Play Ball!
I hope you can take a moment to reflect on your "High Fives" from the week. Tune in next week to see more and click the boxes at the top of the post to see other "High Fives" from around blogland!